Inspired by the Council's Rachel Tanur Memorial Prize for Visual Sociology, we ask prominent scholars to select
a visual artifact of this time that will help future researchers understand the Covid-19 crisis.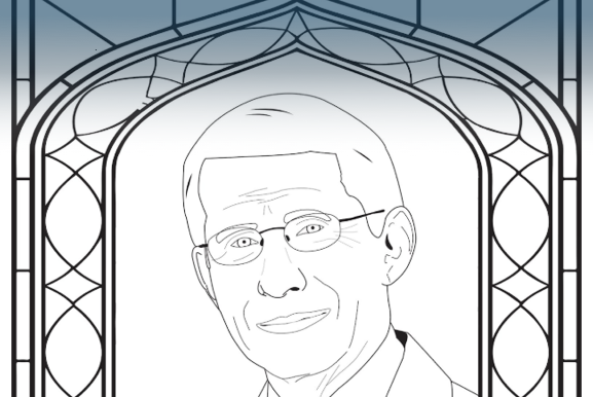 Adia Benton
Associate Professor of Anthropology, Northwestern University
"Dr. Fauci has to cope with the deep ignorance of the administration and find a way to offer advice and counsel under these circumstances. His ability to navigate this and speak with a certain legitimacy and authority about Covid-19...in some way, was stealing Trump's thunder. By simply being an expert, and saying things that, frankly, sound smart, he stood in stark contrast to the rest of the spectacle of the daily press briefing."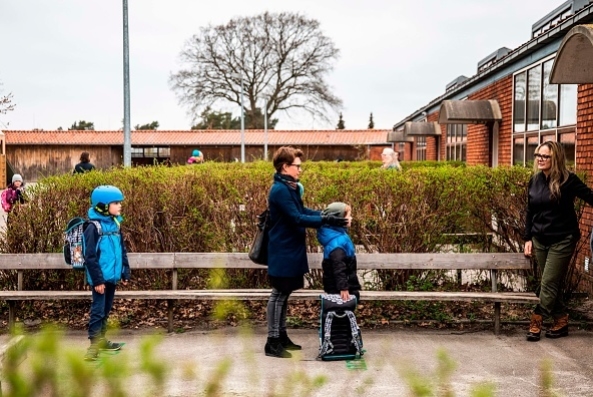 Brooke Harrington
Professor of Sociology, Dartmouth College
"If I had the power to make public policy, one of the first things I would do is recognize that caregiving is not a hobby...It's a work of love, but it is work, and systematically devaluing it… harms all of society. And it pushes out of science, and the professions generally, exactly the kind of people we need—people with empathy, people who care about others, people who have a good visceral sense of what it means to be part of society, because you can't have a society without care."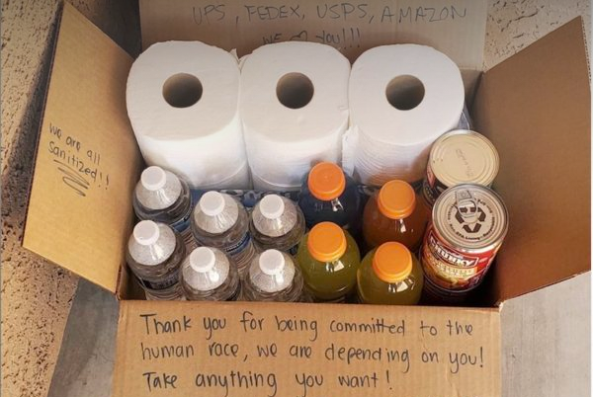 danah boyd

Founder, Data & Society and Member, SSRC Board of Directors

"Somewhere in the American psyche, there's still an awareness that their convenience is someone else's problem. But it would be un-American to demand that such workers are compensated for their risk. After all, that would result in higher prices. Instead, we thank such workers with care packages meant to symbolically show our appreciation without actually ensuring that those workers and their families are safe."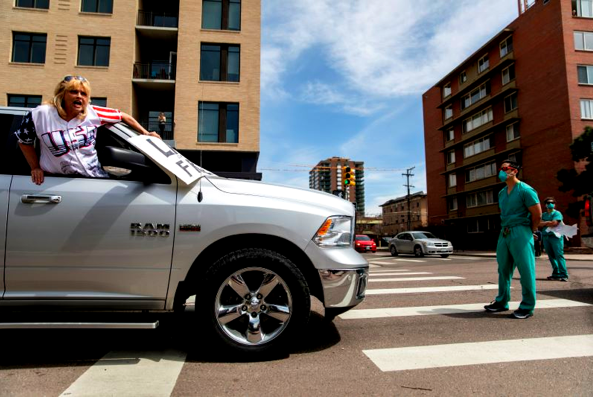 Hahrie Han
Professor of Political Science and Director, Stavros Niarchos Foundation Agora Institute, Johns Hopkins University
"the image is emblematic of how limited our capacities for public accountability have become. How is it that frontline healthcare workers are left with such a paucity of available repertoires to advocate for what they believe is right? In this image, this nurse is reduced to a solitary standoff against a line of huge trucks. The pandemic has exposed the emaciated nature of so many of the systems that govern our lives… In choosing this picture, I was thinking particularly of the way it shows that government has been unable to solve the most basic problems in peoples' lives, and the brokenness of our democracy in providing people with opportunities to hold unwilling or unresponsive leaders accountable. As a result, people are pitted against each other in a fight for the scraps government has left."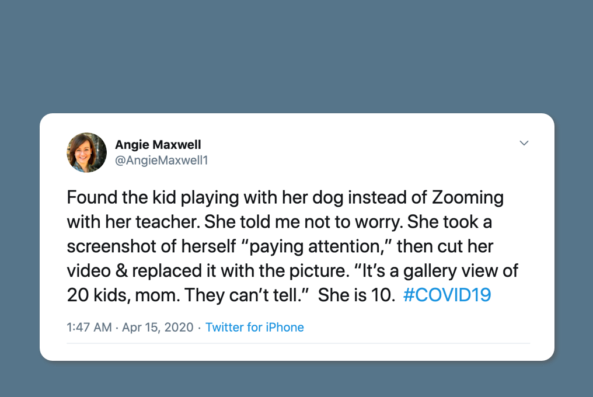 Na'ilah Suad Nasir
President of the Spencer Foundation
"[T]he post suggests that the ways in which we've been thinking about the implications of this pandemic for education are a bit reductive and that, in fact, young people are thinking about this in much more complex and sophisticated ways than adults are…So much of the approach has been about providing devices and thinking about inequality as a shortage of devices. What this post makes apparent is that, even if you have the devices, if the medium's not speaking to what young people need, they will engage it in a way that makes the space for them to take care of themselves…[T]he post suggests an approach to education and studying education that is broader, that is more about…how systems are meeting people's needs or not."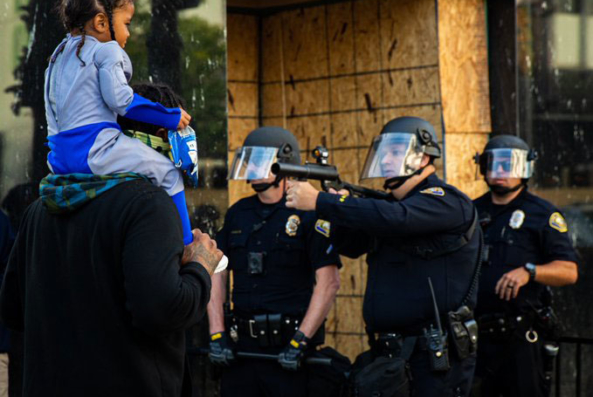 Victor M. Rios
Professor of Sociology and Associate Dean of Social Sciences, University of California, Santa Barbara
"…[T]his image captures what I hope will be a double victory. When that little boy is twenty-five he's going to say, 'I was on my dad's shoulders and he was part of a movement that changed our society. We succeeded in eradicating racist policing and in defeating a health pandemic.' I am hopeful that we will see changes in how society treats the health and well- being of marginalized populations. I believe we will see new models for addressing criminalized behaviors. This movement has shown that we need to rethink budgetary allocations. We need more social welfare programs, more social workers instead of police officers responding to calls that have nothing to do with crime."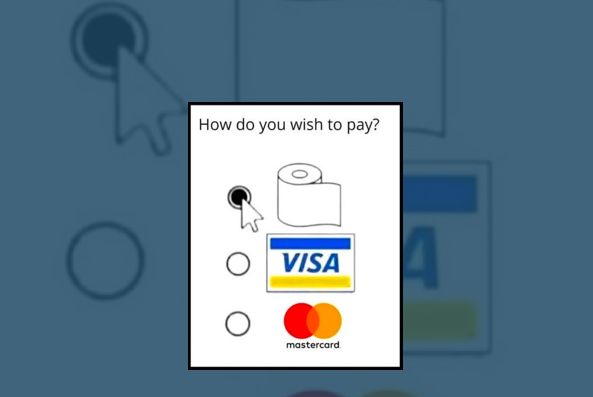 Bill Maurer
Director of the Institute for Money, Technology and Financial Inclusion and Dean of the School of Social Sciences, UC Irvine
"The image is a "How would you like to pay?" sign. Something like what you'd see in a store or restaurant or online; and it gives you the options of Visa, MasterCard, or toilet paper. When the pandemic and shelter-in-place started, there was a rush to the stores to hoard toilet paper… This led to a broader commentary online and elsewhere about the nature of "value"…That's what is interesting to me about the image. It captures more than just the pandemic."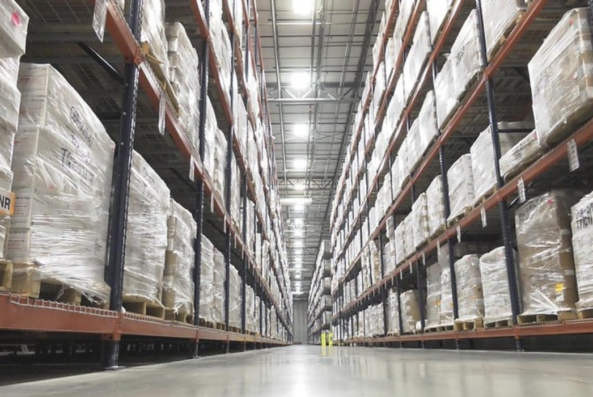 Andrew Lakoff
Professor of Sociology and Communication, University of Southern California
"[A] stockpile is actually a kind of time capsule. You're putting things into a box now with the expectation that in some future moment, we don't know when, people will open it up again. The things that are in the stockpile materially instantiate the way in which a society at a given moment imagines what a catastrophic future will look like and what will be needed in order to survive that future."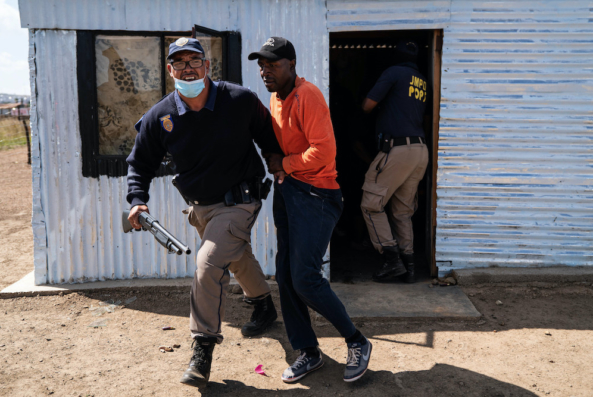 Loren B. Landau
Professor and South African Research Chair on Migration and the Politics of Difference, University of the Witwatersrand, Johannesburg
"[I]n a place like South Africa, which has an extraordinary constitution and an official commitment to social justice, Covid-19 reveals the strong anti-poor impulses among police and politicians... We are seeing the rise of "autocrats in lab coats," using medicine to justify or enable interventions aimed at the most vulnerable populations."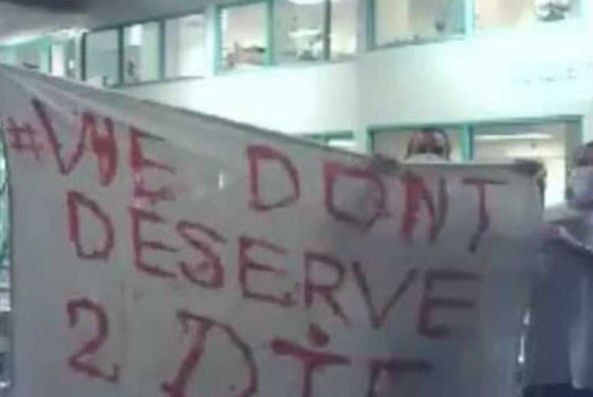 Elizabeth Hinton
Associate Professor of Social and Cultural Analysis, New York University
"We've been confronted with these questions before, and I think the task now is: How are we going to respond so that we're not confronted with these questions again? Now that these viruses have been unmasked, and the impact of Covid-19—especially in low-income communities of color and prisons—has been exposed, what are we going to do to ensure that in the future, we can create a more equitable society with greater social supports, so that the next time we're faced with a global pandemic, we're able to respond much more effectively?"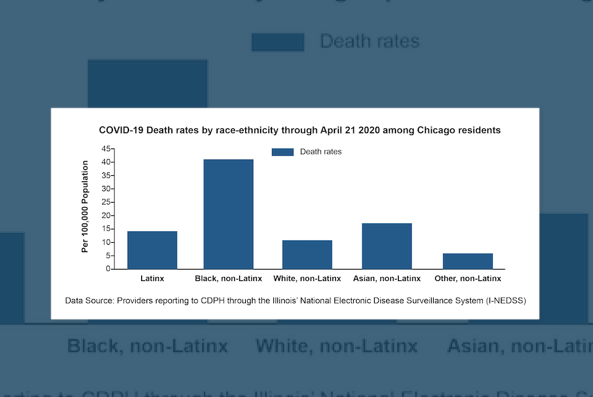 Darrick Hamilton
Economist and Executive Director, Kirwan Institute for the Study of Race and Ethnicity, The Ohio State University
"By placing this graph in a time capsule, I would hope that future iterations of our society would realize that [these racial mortality disparities are] preventable; that there are steps we could have put in place so as to not make a population so vulnerable, a population identified by something as cursory as their race."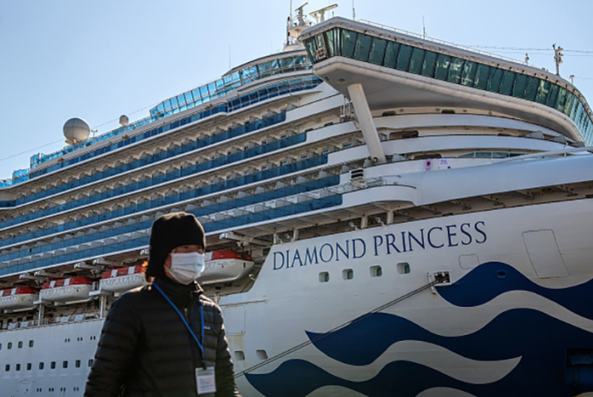 Laleh Khalili
Professor of International Politics, School of Politics and International Relations, Queen Mary University of London
"[T]he image encapsulates that particular moment in time when the Diamond Princess focused global attention on Covid-19 and became a vector of the illness itself... By including the cruise ship, I want to highlight the effects that this mode of transport has had on the movement of the illness and also to discuss the invisible elements of this broader story, of which there are very few images."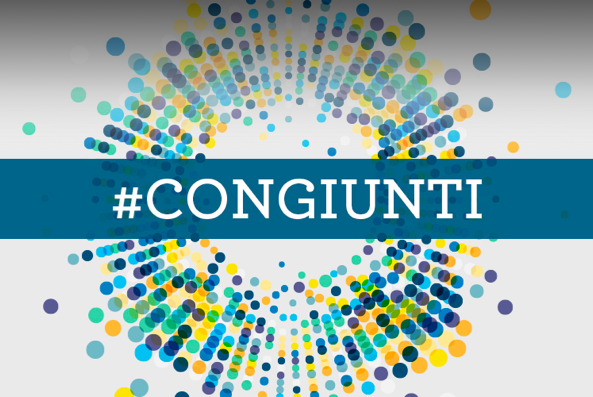 Francesca Trivellato
Andrew W. Mellon Professor, School of Historical Studies, Institute for Advanced Study
"Congiunti is a synonym for relatives, but is mostly used in legal and bureaucratic documents. Although it is part of the vernacular, it is not the colloquial word Italians use to refer to relatives, which is parenti. The hashtag #congiunti gained national and international attention at the end of April 2020, when the Italian government announced the rules for the so-called Phase Two—the partial relaxation of the stay-at-home policy....The rule ignited satire and serious commentary."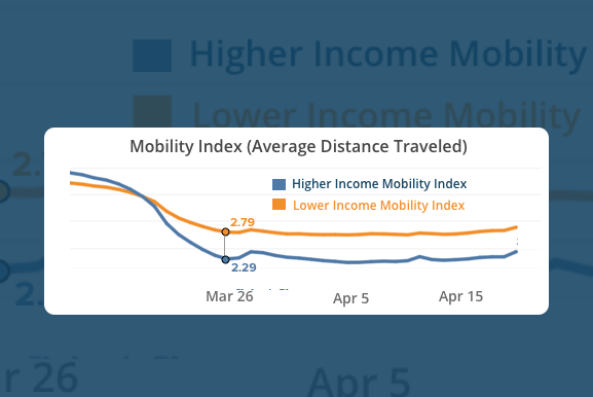 David Lazer
University Distinguished Professor of Political Science and Computer and Information Sciences, Northeastern University
"Covid-19 has revealed that some people were able to insulate themselves from the virus, whereas others were not or were less able to, and these data display this quite starkly…[the] take away is that we're all being tracked... [T]he granularity of these data underscores the double-edged sword that comes with greater analytical capabilities."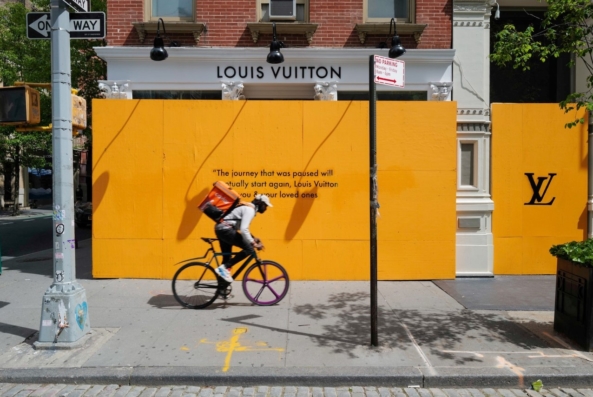 Jelani Cobb
Ira A. Lipman Professor of Journalism, Columbia University
"We've experienced decades where labor has been disparaged... Yet... these workers were on the front lines. They were risking their lives to do things that aren't glorified... [N]o one lionizes the grocery worker. No one lionizes the pharmacist. No one lionizes this guy on his bike. If we're going to have a revitalized movement around the treatment of workers in this country... Covid-19... has made the best argument for workers. An argument much better than anyone else could have made."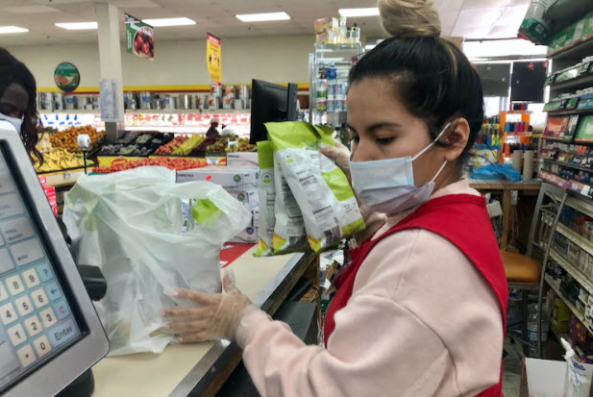 Hector Amaya
Professor of Communication, Director of the School of Communication; Associate Dean of Diversity, Inclusion, Equity and Access, USC Annenberg
The notion of the essential worker should bring attention to categories of workers that are always essential. What is the "essence" of society? Food workers, supermarket workers, people working in meat processing plants, people working in the fields trying to put fresh produce in front of us. That we now choose to brand them as "essential" so that we, the rest of us, can have their sacrifice and the product of their labor, seems to me rather manipulative.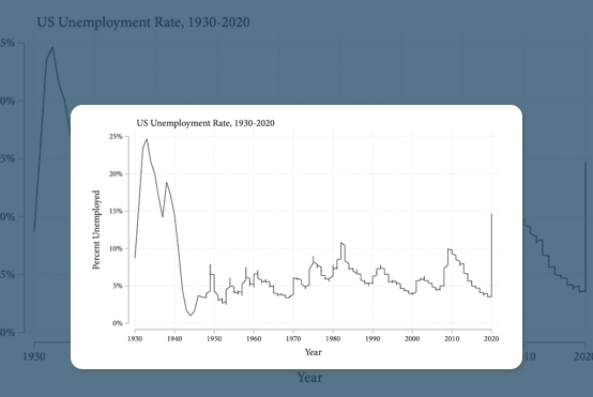 Brendan O'Flaherty
Professor of Economics, Columbia University
We can't hypothesize about what it means when unemployment rates rise this rapidly because it's never happened before....We do know there is a [positive] relationship between unemployment and homelessness....[Medical experts say] we're supposed to stay home and wash our hands...if you're homeless, you can't do either. If the historical relationship between unemployment and homelessness holds, then you'll have a group of people who will probably be more vulnerable to Covid-19 and, therefore, to increasing the spread of coronavirus in the second and third surges.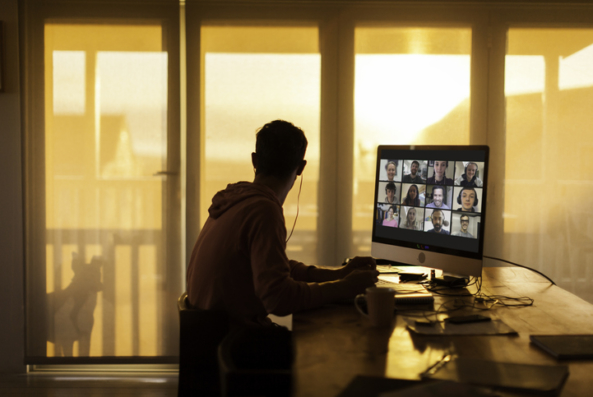 Annelise Riles
Associate Provost for Global Affairs, Northwestern University and executive director, Northwestern Buffett Institute for Global Affairs
"We're in a moment right now where we don't know what a university looks like. Is it the space? Is it not the space? How does a classroom work? How do people learn? How do people communicate? All of that is up for grabs, by virtue of the fact that we're in this virtual experiment. And since we have to reimagine everything right now, why don't we just go for it and reimagine it?"
Matthew Desmond
Maurice P. During Professor of Sociology, Princeton University
"I hope that people will pull this photo out, years later, and ask, "How could we have been so cruel?" I've been on evictions when it's a lot of degrees below zero.... I've seen moms trying to figure out, "Should I feed my kids, or should I pay the rent?"....I hope that 50 years from now, 70 years from now, we're not doing this. In Virginia, one in 10 evictions are for less than $335. That's less than what my students pay in textbooks every semester. This makes no sense. This is an American cruelty."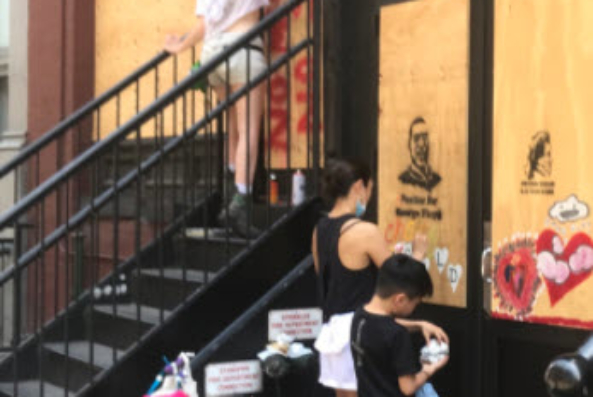 Thuy Linh Tu
Associate Professor of Social and Cultural Analysis, New York University
"I chose this photo because when I was watching all this, I felt a palpable relief for a few moments. It reminded me that creativity was continuing to flourish, even in the midst of all this sadness and loss and anger. And I mean creativity of the artistic kind, but all kinds of creative work were flourishing in this moment, including things like the creation of these various vaccines; these are all of a piece for me."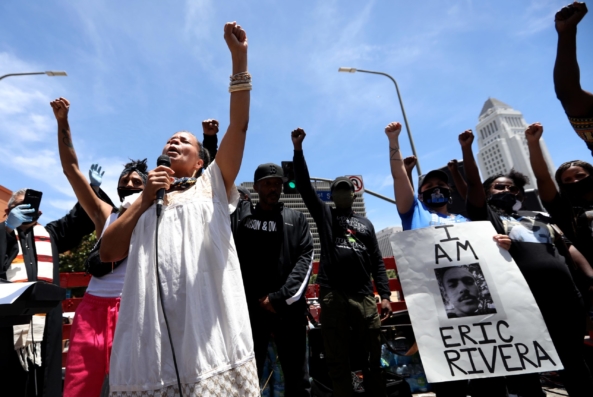 Kelly Lytle Hernandez
Professor and Thomas E. Lifka Chair of History, University of California, Los Angeles
"...police reform is a fool's errand. We have tried this multiple times before.... Now is the time to radically reduce police budgets and to shift those funds over to the institutions and the systems that we know work, such as investing in young people in their employment and their education. Radical budgetary change means taking care of our elders and our most vulnerable community members, investing in mental health clinics, tending to our families and making sure we're addressing issues of domestic violence and abuse. It means trumpet lessons for every kid, so they can envision a new world where they fit in, where they have possibilities, and where they can dream."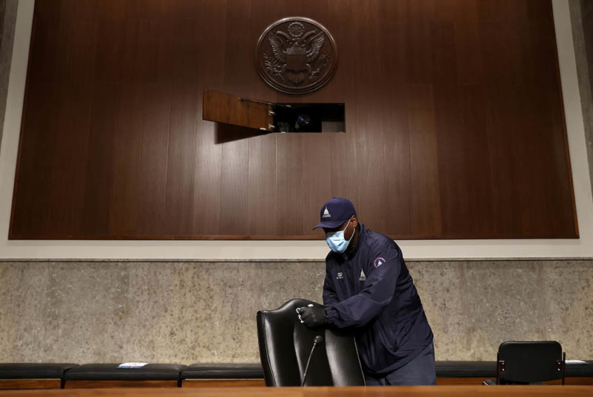 James R. Jones
Assistant Professor of African American studies and sociology, Rutgers University–Newark
"The congressional workplace is known as the invisible force in American lawmaking, particularly when it comes to congressional staffers. When you look at congressional service workers, they're even more invisible.... This invisibility and lack of concern is indicative of the racial caste system within Congress.… I think there needs to be more attention paid to how Congress is itself racialized, especially as it has the important task of addressing racial inequality, particularly in this moment."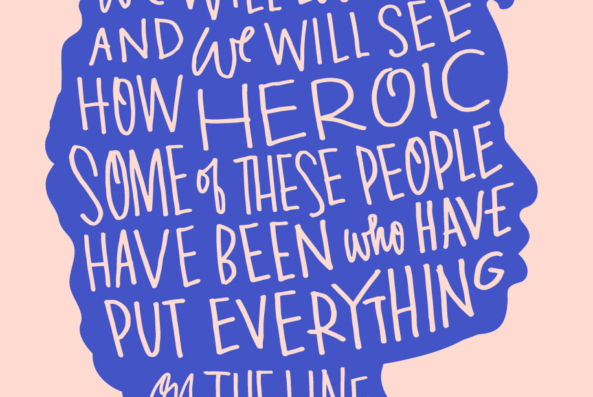 Celeste Watkins-Hayes
Incoming Collegiate Professor of Public Policy, Professor of Sociology, University of Michigan
"...[W]henever we are faced with a major health crisis there are moments in which people put their bodies on the line and do all sorts of things for the greater good. They participate in political activism, they volunteer to be part of scientific research and clinical trials to test out treatments and vaccines on their own bodies, and they courageously share their stories. All of this moves the needle forward. This was seen with HIV, and similar actions are what will help us overcome the Covid-19 pandemic."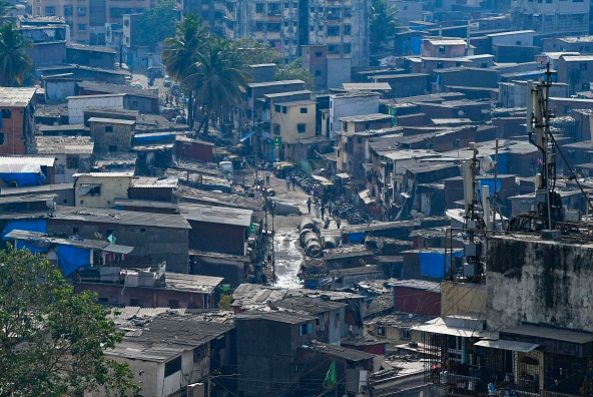 Arjun Appadurai
Goddard Professor in Media, Culture and Communication at New York University; Professor of Anthropology at The Hertie School – Berlin
"the image begins to capture the very real problems for two categories of people… the migrant worker and the slum dweller [who] are the hardest hit under the current regime and the most vulnerable to a rampant pandemic, in India…The image of Dharavi is just one example of a larger narrative, telling the story of the horrible conditions so many people across the globe find themselves in… Dharavi, highlights the starkness of the problem, but it does not exhaust the horizon of more optimistic possibilities."